What does "wedding reportage" mean?
It means that I will try to report the entire wedding day without interfering in its flow.
You won't be taken from your guests, you won't be late at the restaurant, you won't be forced to long,
boring and often useless posing sessions.
Does it mean we won't have good pictures?
On the contrary you will have the best because you'll feel totally relaxed and at ease.
I will try to catch your most genuine and spontaneous expressions,
to tell your emotions, to fix that fading moment and the detail you care so much about.
Only a few minutes will be required to shoot some portraits, making you feel easy in a beautiful location.
What if Aunty wants a family photograph to frame?
Tell her she'll have it. We'll take all the traditional family and group pictures,
well done ties and fixed up hair, don't worry.
I'll be at your complete disposal as long as you'll need it, I only accept one wedding a day.
How can I judge your work?
To judge a wedding photographer's work it's necessary to take a look
at his complete services because peeking a few
casual shot selections from different weddings is surely not enough.
You'll find a choice of my complete wedding works in the "realwedding" section.
Are the pictures on your website really yours?
They are absolutely, every single shot you see on my website or on my FB page
was taken by me or my second photographer under my control.
No pictures coming from samples, photo agencies or workshops, they were all taken in actual situations.
Can we meet you to talk face to face and see some prints?
Sure, you are welcome at my studio in Busseto (Parma) -
at the crossing of Parma, Piacenza and Cremona provinces- (see the map on the "Contacts" section)
only on appointment, or I can come and see you, if you prefer.
If you live long distance we can have a preliminary contact on Skype:
call me at +39 3407345808 or send an e-mail [email protected]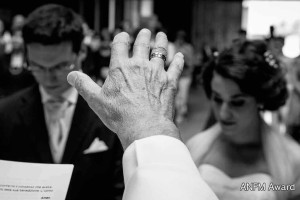 What are your rates?
First of all, please take some moments to value my style and my pictures.
My rates start from 1100€ (tax included) for the basic service
supplying the only files that you'll provide to print where and how you wish.
Care and dedication, as well as technology, are obviously the same whatever option you choose.
Can we have an estimate?
Of course you can. Send me a request by e-mail at [email protected] including most information you can:
essentially the date, but if you can also the place, number of guests, kind of location, and so on.
The price we'll agree upon will be set on a contract and you won't have any bad surprise after the wedding.
What albums do you propose?
There are many: the classical leather one or many new solutions such us 5punto6.
I can also use an album of yours, if you wish.
Can you deliver high definition files?
Yes, all my services include the delivery of all the wedding files,
after the necessary post-production works, at no extra charge.
Will you come personally to our wedding?
Sure. All the members of ANFM undertake to respect this honesty agreement towards their customers.
Where do you usually work?
I basically work in northern Italy, seldom abroad
How much do you charge for transfer fees?
Every case should be seen separately, also considering ceremony times.
I can roughly say that no extra fees will be charged under 100 km distances.
For longer distances only actual costs will have to be reimbursed.
How does your work take place?
My service starts with the bride and groom's preparation and end with the party.
If you wish I can shoot some portraits on beforehand.
Do you work alone?
I usually have a second photographer, but different solutions can be considered.
For instance, if a wedding takes place in one single location or there are few guests I may not need him.
How many shots do you take at a wedding?
I can't answer this question exactly: it depends on peculiar situations, on the guests' fancy requests
or if we have to move from one to more locations. I can say from 700 up to over 3000 shots.
How many pictures will we find on our album?
The albums I make are rich; if you choose the full service I assure 180 prints.
How are pictures chosen?
Choosing the pictures is very important as they have to tell the story of your most beautiful day.
I usually suggest the newly weds to choose the pictures they want to have of their guests
and let the choice of the wedding (preparation, ceremony, party) pictures to me.
You can then suggest any change on my choice.
What are your delivery terms? 
I usually post about 10/15 unprocessed pictures on my FB page within 24 hours,
just to give you some memories to share with your friends and family.
The whole shooting work is delivered after 20/30 days.
The finished album is delivered after 30/45 days from the final customers' choice of the pictures.
Is post-production included in the service price?
Sure, every delivered picture is processed.